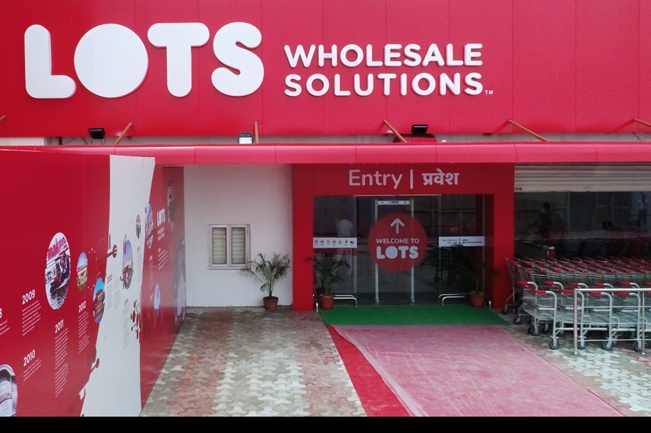 LOTS Wholesale Solutions unveils its first India store in New Delhi
Hon'ble Minister of Food Processing Industries Smt Harsimrat Kaur Badal inaugurates the store
The B2B store located at Netaji Subhash Place in Pitampura will be open for customers from 19 July 2018
New Delhi, 18 July 2018: LOTS Wholesale Solutions, a part of the USD 50 billion Charoen Pokphand Group ("CP Group") and a wholly owned subsidiary of Siam Makro Public Company Limited ("Siam Makro") from Thailand , today unveiled its first wholesale distribution centre in India at Netaji Subhash Place, New Delhi. Inaugurated by the Hon'ble Minister of Food Processing Industries Smt Harsimrat Kaur Badal, this is the first of the fifteen distribution centres LOTS Wholesale Solutions is aiming to open in India over the next three years.
The company had announced its foray into India at the World Food India 2017 with a Memorandum of Understanding (MoU) worth INR 1,000 crores signed with the Ministry of Food Processing Industries. With its initial footprints in Delhi NCR, LOTS Wholesale Solutions will help generate 5,000 direct and indirect jobs over the next five years. Also present at the opening ceremony were Thailand's Ambassador to India HE Mr Chutintorn Gongsakdi, Mr Dhanin Chearavanont, Senior Chairman of CP Group, Mr Soopakij Chearavanont, Chairman of CP Group, Mr. Supachai Chearavanont, CEO of CP Group, Mrs Suchada Ithijarukul, Group CEO of Siam Makro PCL, the leadership team of LOTS Wholesale Solutions, and or business partners.
The newly launched store will cater to over 50,000 registered members which include Hotels, Restaurants and Caterers (HoReCa), kirana stores, corporates, MSMEs and institutions such as government agencies, educational institutes and hospitals. Spread over an area of 50,000 sq. feet, the LOTS Wholesale Solutions store is fully equipped with modern warehousing and storage facilities for its members.
Commenting on the occasion of the launch, Hon'ble Minister of Food Processing Industries Smt. Harsimrat Kaur Badal said, 'Indian retail sector is growing exponentially, more particularly food retail is pacing past other sectors. Food processing and Food Retail are recording robust growth. Arrival of the Multinational Companies like CP Wholesale in India and registering their presence by opening chain of Stores in India and inauguration of their first store LOTS in Delhi shows the popularity of Brand India in the world. Days are not far for India to become the Global Food Market and Global Food Factory.'
Talking about the launch of the first store in India, Tanit Chearavanont, Managing Director, LOTS Wholesale Solutions said, 'It is a landmark day for LOTS Wholesale Solutions and Siam Makro as we unveil our first wholesale centre in India. Through this store, the registered members of LOTS Wholesale Solutions will enjoy the benefits of a vast assortment of high-quality food and non-food products, tailored to the specific needs of the Delhi market. We will offer our business customers a wholesale experience of global standards with a focus on high-quality products and customised services designed to make their purchasing easier, more efficient and economical. The store will become fully operational and cater to our customers from 19 th July onwards.'
Commenting on the occasion, Mr Soopakij Chearavanont, Chairman of CP Group said, 'I am very excited to be a part of the first store launch of LOTS Wholesale Solutions in the capital city of the country; India is an extremely important market for us. Taking forward the CP Group philosophy of "3-Benefits" in India, we are committed to creating prosperity for the country, for the local community and people, and finally to the company. LOTS Wholesale Solutions will invest in people, technology and supply chain infrastructure, and look forward to contributing to India's economic growth.'
The company brings specially curated assortments, categorised into food and beverages, kitchenware, household appliances, home decor, furniture, bedding, textiles, stationery and office supplies, electronic products and others; making LOTS Wholesale Solutions a complete one-stop shop.
At LOTS Wholesale Solutions, the main focus is on customers' needs and satisfaction. The company offers a varied set of benefits to its members including a wide range of product selection at its stores, based on detailed research specifically catered to the catchment area and market demand. Through transparent pricing, round the year promotions, consistent product availability, customised last mile delivery and credit facilities, the company aims to provide a hassle-free shopping experience to its members.
Under its region-specific business strategy, LOTS Wholesale Solutions will provide support to home-grown brands and local suppliers. Fresh produce will be directly sourced from local farming communities, which will help farmers increase their income whilst reducing wastage during transportation and storage.
On 17 th July, the company conducted a walkthrough session of the distribution centre for its selected members. A 2-hour super sale was hosted for 200 exclusive customers at the preview.About LOTS Wholesale Solutions CP Wholesale India Private Limited, a wholly-owned subsidiary of Siam Makro Public Company Limited ("Siam Makro"), was established in January 2017 in India and will be operating under the name LOTS Wholesale Solutions. Siam Makro is Thailand's leading Cash & Carry operator in wholesale for professional business operators. The company's focus in India is on meeting the needs of business customers' and ensuring their satisfaction through the provision of a wide range of products to its members which include retailers, hotels, restaurants, caterers, service business operators, government agencies, hospitals and education institutions.
About Siam Makro Siam Makro Public Company Limited, part of the CP Group, operates under the brand name 'Makro'. Established in 1988, Makro offers a range of food and non-food items at wholesale prices to over 3 million registered members in Thailand. Employing over 15,000 people, Makro currently owns and manages 113 Makro Cash & Carry stores, 8 Siam Frozen shops and 5 Food shops in Thailand totalling 734,713 square metres of sales space and 1 Makro Cash & Carry store in Cambodia. The company has engaged in import, export and distribution of quality products in Thailand, Cambodia, Hong Kong, Singapore, UAE and Vietnam through its subsidiaries and other relevant businesses.
About Charoen Pokphand GroupFounded in 1921 as a seed trading store for Thai farmers, the Charoen Pokphand Grouphas grown over the years into an integrated food production, distribution and retailbusiness. Today considered one of Thailand's largest private company and one of theworld's largest conglomerates, it is headquartered in Bangkok, with interests spanningacross agribusiness and food, retail and distribution, telecommunications, plastics,automotive, pharmaceutical, property and financial investments.