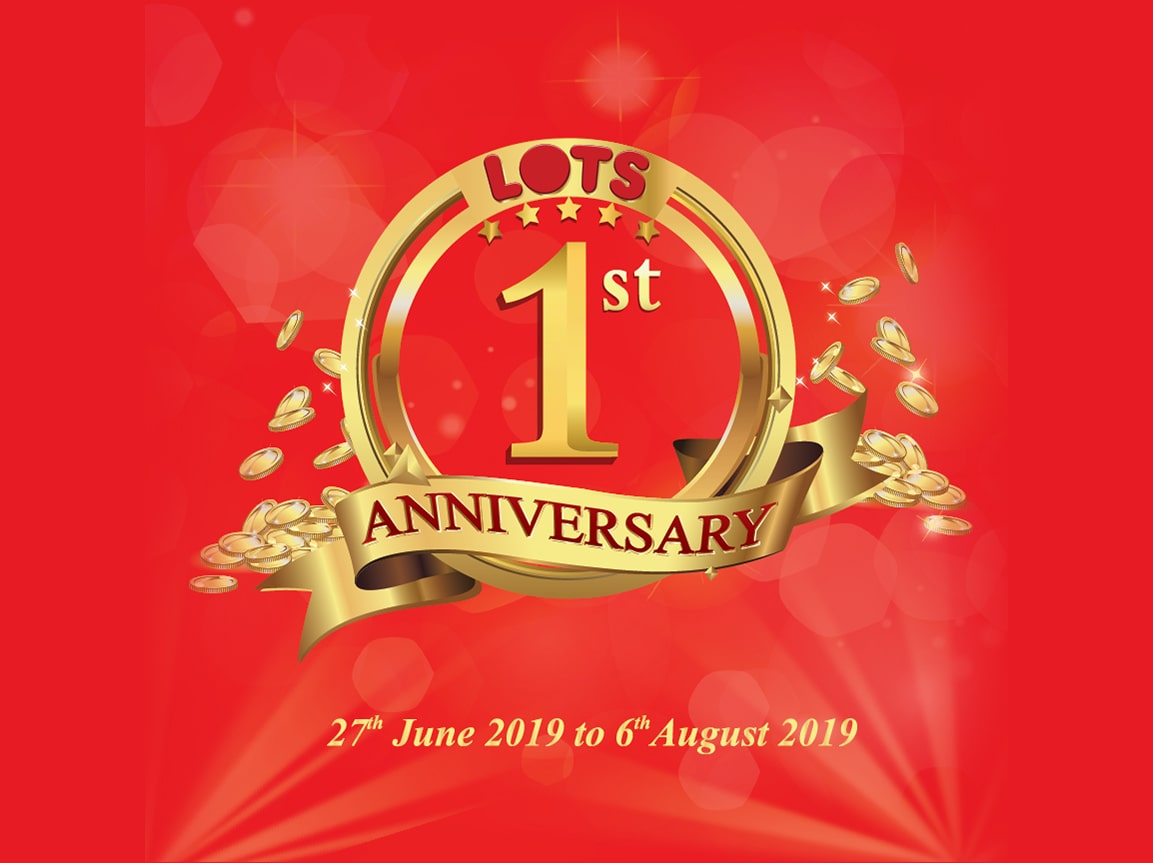 LOTS Wholesale Solutions spreads the cheer to the members on its first anniversary in India
~ 41 days long shopping extravaganza to delight consumers with massive benefits ~
National, 24th June 2019: Commemorating its first-year milestone in India, LOTS Wholesale Solutions, a part of the USD 50 billion Charoen Pokphand Group ("CP Group") and a wholly-owned subsidiary of Siam Makro Public Company Limited ("Siam Makro") from Thailand is all set to extend the celebrations to its over 1,40,000 registered members. The festivities will continue for over a month, beginning from 27th June to 6th August. 41-day shopping extravaganza is spearheaded by "Lakhon Ka Khel" campaign will focus on maximising profit for customers on every purchase made at LOTS stores. As part of this campaign, LOTS has planned exciting deals for its business customers including lucky draws, vouchers, instant discounts, hampers, cash prizes, brand merchandise and more.
"Lakhon ka Khel" campaign star offering comes in form of 1 Lakh cash price lucky draw that will take place every Wednesday at all its stores. To make anniversary more engaging and rewarding, LOTS will also organise lucky draw every hour on six consecutive Sundays. Winners will take home high value hampers. Besides each member will be given a book of multiple coupons which upon usage will unlock benefits of over Rs.10, 000.
Commenting on the milestone, Mr. Tanit Chearavanont, Managing Director, LOTS Wholesale Solutions said, "It's a great moment for LOTS and everyone associated with it. Our members have supported and encouraged us during this past one year. With this anniversary celebration we wish to show our gratitude to our members and give them windfall return on their purchases at LOTS.  This 41 day long campaign will not only delight our existing customers but will also expand the horizon for us to acquire new customers. We invite our business customers to make the most of this time and drive profitability with every purchase."
With this campaign, one year old company LOTS Wholesale Solutions aims to drive loyalty within its members by giving multiple offers along with competitive pricing and year round availability. With this, our members will be able to generate more profitability year on year. Such a robust and unique anniversary programme will certainly excite its current base and at the same time attract new membership requests.
About LOTS Wholesale Solutions
LOTS Wholesale Solutions, a wholly-owned subsidiary of Siam Makro Public Company Limited (via CP Wholesale India Pvt. Ltd.), was established in January 2017 in India and operates through 3 stores in Delhi NCR. Siam Makro is Thailand's leading Cash & Carry operator in wholesale for professional business operators. The company's focus in India is on meeting the needs of business customers' and ensuring their satisfaction through the provision of a wide range of products to its members which include retailers, hotels, restaurants, caterers, service business operators, government agencies, hospitals and education institutions.
About Siam Makro
Siam Makro Public Company Limited, part of the CP Group, operates under the brand name 'Makro'. Established in 1988, Makro offers a range of food and non-food items at wholesale prices to over 3 million registered members in Thailand. Employing over 15,000 people, Makro currently owns and manages 131 stores in Thailand and Cambodia. The company has engaged in import, export and distribution of quality products in Thailand, Cambodia, Hong Kong, Singapore, UAE and Vietnam through its subsidiaries and other relevant businesses.
About Charoen Pokphand Group
Founded in 1921 as a seed trading store for Thai farmers, the Charoen Pokphand Group has grown over the years into an integrated food production, distribution and retail business. Today considered one of Thailand's largest private company and one of the world's largest conglomerates, it is headquartered in Bangkok, with interests spanning across agribusiness and food, retail and distribution, telecommunications, plastics, automotive, pharmaceutical, property and financial investments.