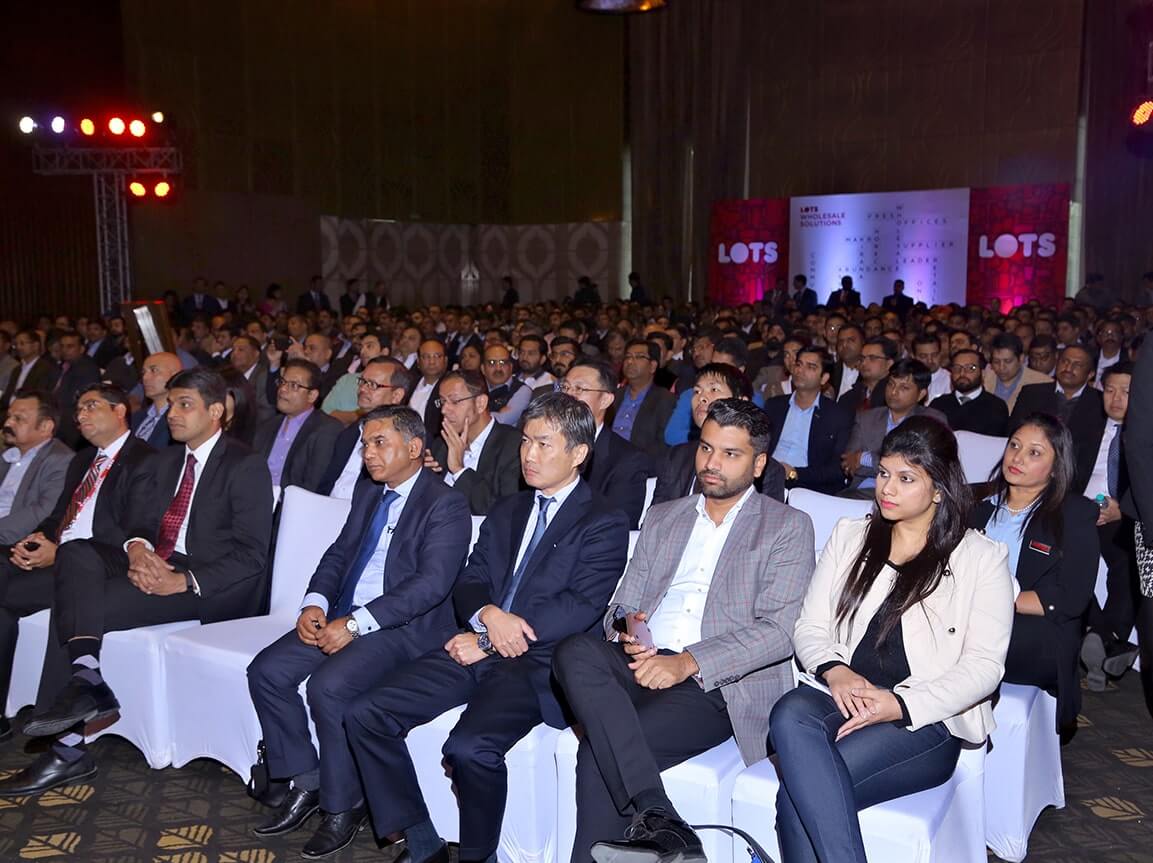 LOTS Wholesale Solutions receives overwhelming response from its Partners
Press Release-New Delhi, February 9, 2018
New Delhi, February 9, 2018: LOTS Wholesale Solutions, a 100% subsidiary of Siam Makro,today organised its first partners' meet with the aim to create a robust network of suppliers that would feed into its two stores which ready for a roll out in the second quarter of 2018.Manufacturer brands have shown keen interest in the new cash and carry format and have extended their support. The company had recently announced its foray into the Indian market with plans to launch 15 stores over the span of three years within Delhi NCR.
Talking about the partners' meet, Tanit Chearavanont, Managing Director, LOTS WholesaleSolutions said, "At LOTS Wholesale Solutions, our endeavour is to understand the needs of our B2B customers. Being closer to the consumers and analysing purchase patterns, we will be able to identify trends that that market will adopt. Our aim is to share these insights with our supplier partners and jointly develop solutions that can make a positive impact on the business operations of our customers, comprising of kirana, HoreCa and institutions. This will be a win-win for all."
Suchada Ithijarukul, Group CEO, Siam Makro Public Company Limited also graced the event and was seen interacting with several attendees. Commenting on the DNA of Siam Makro,she said, "We are now poised for MAKRO 4.0 that aims to bring benefits of digitisation to our customers and suppliers. This is targeted towards the next generation of customers and will enable our suppliers to grow with us in the digital age. We have partnered with SMEs and local brands and have shared the knowhow to ensure that they are able to achieve efficiencies in their operations."
The company plans to invest over INR 1,000 crores (INR 10 billion) in the first five years.First two stores of LOTS Wholesale Solutions will be opened in Delhi NCR in 2018. The company is known for its ability to bring specially curated assortments for each of its microcatchments to attract B2B consumers and stakeholders like traders, resellers, hotels,restaurants, caterers, food based start-ups, farmers, corporates and SME's. Additionally,exhaustive Food Safety Training and Quality control, customised last mile delivery, localised sourcing of food products, credit facilities to members and suppliers, transparent pricing at all touch points and leveraging technology and innovation at all levels will all be facilitated by the organisation.
About Siam Makro In India, it is launching operations as Lots Wholesale Solutions, a 100% subsidiary of SiamMakro. Leaders in the cash & carry business, the company's main focus in India will be on meeting customer's needs and ensuring satisfaction. It will realize this through a combination of research and advance technology solutions with regards to product storage,packaging and display.
About Charoen Pokphand GroupFounded in 1921 as a seed trading store for Thai farmers, the Charoen Pokphand Group has over the years grown into an integrated food production, distribution and retail business.Today considered one of Thailand's largest private company and one of the world's largest conglomerates, it is headquartered in Bangkok and spans agribusiness and food, retail and distribution, telecommunications, plastics, automotive, pharmaceutical, property and financial investments.