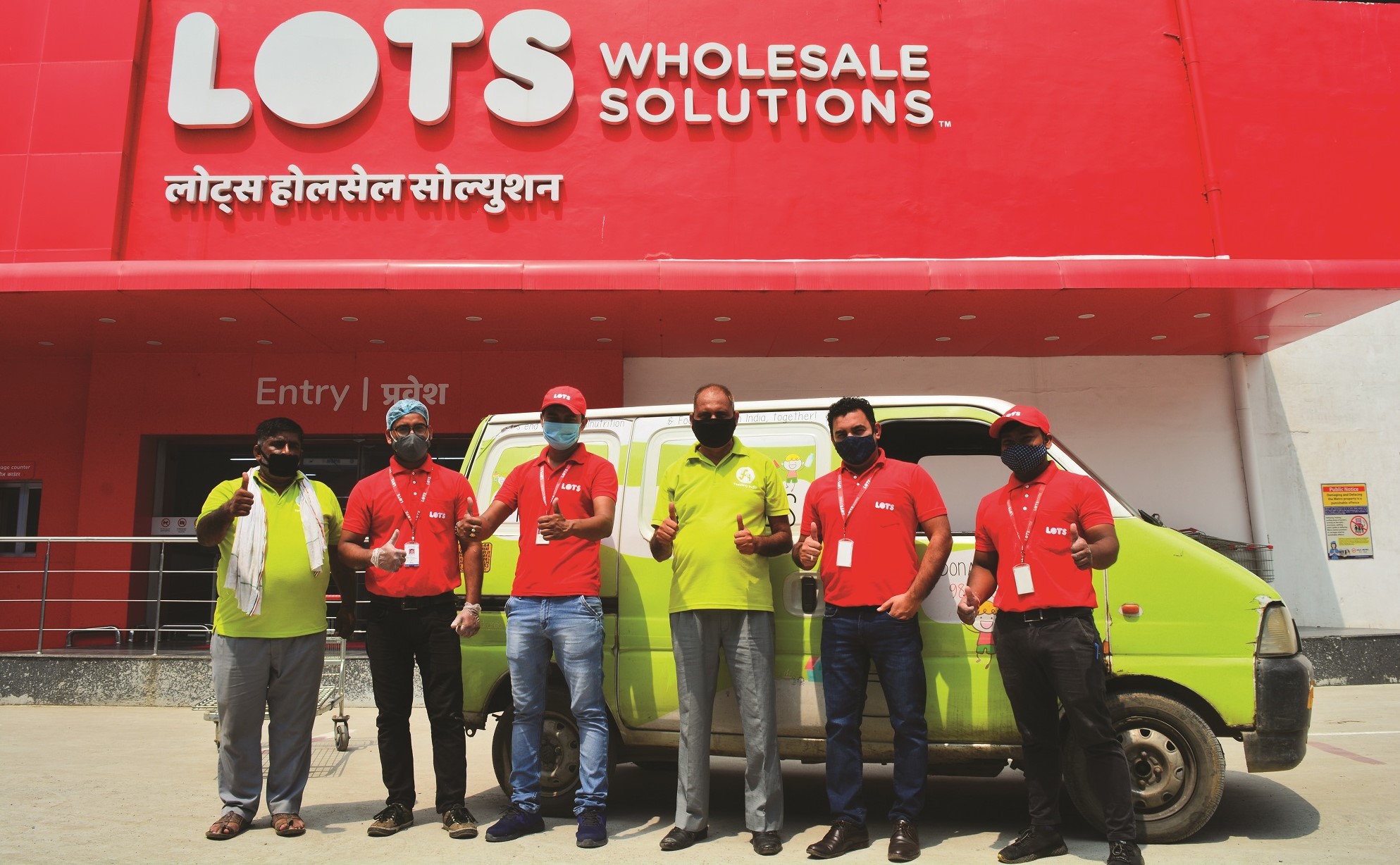 LOTS Wholesale Solutions pledges to fight hunger, partners with Zomato Feeding India amid COVID crisis to feed the needy
New Delhi 27 August, 2020: LOTS Wholesale Solutions, a part of the USD 65 billion Charoen Pokphand Group ("CP Group") and a wholly-owned subsidiary of Siam Makro Public Company Limited from Thailand has partnered with Zomato Feeding India in its efforts to eradicate hunger amidst the chaos spread by COVID -19.
Following the 3C philosophy of its parent brand that prioritises country and community over company, LOTS has tied up with Zomato Feeding India to support local communities that have been impacted by ongoing coronavirus pandemic.  Besides being a health crisis, the pandemic's impact can be seen in the drying up of livelihoods of a large number of families surviving on daily wages, and other vulnerable communities in our society. To assist Zomato Feeding India with their endeavour to feed the needy, LOTS is extending the support by supplying over 100 KG ration per week from its stores.
The two-fold mantra of safety and stock availability, has helped LOTS meet the requirements of its core member base which primarily include kirana shop owners. LOTS is always dedicated towards ensuring an adequate supply of essentials. Through this partnership, LOTS wants to ensure that no one goes hungry in times of need.
Commenting on the initiative, Mr Tanit Chearavanont, Managing Director and Member of the Board, LOTS Wholesale Solutions said, ". LOTS DNA is deep-rooted on a focused approach of 3Cs- the Country, the Community, and then the Company. The Covid-19 pandemic has impacted lives and livelihood across the nation and through our efforts, we remain cognizant of our role in the relief and recovery efforts. We are proud to be associated with Zomato Feeding India who is determinedly working towards this great cause, through them we are able to do our bit towards the country and the community." 
"Our partners play a crucial role in our mission to provide relief to the daily wager community. We are glad to make LOTS a part of this mission and are thankful for their contribution. With 100 kgs ration every week, we are able to serve many more meals as well as increase the impact geographically" added Chaitanya Mathur, Head- Zomato Feeding India.
About LOTS Wholesale Solutions
LOTS Wholesale Solutions, a wholly-owned subsidiary of Siam Makro Public Company Limited (via CP Wholesale India Pvt. Ltd.), was established in January 2017 in India and operates through 3 stores in Delhi NCR. Siam Makro is Thailand's leading Cash & Carry operator in wholesale for professional business operators. The company's focus in India is on meeting the needs of business customers' and ensuring their satisfaction through the provision of a wide range of products to its members which include retailers, hotels, restaurants, caterers, service business operators, government agencies, hospitals and education institutions. 
About Siam Makro
Siam Makro Public Company Limited, part of the CP Group, operates under the brand name 'Makro'. Established in 1988, Makro offers a range of food and non-food items at wholesale prices to over 3 million registered members in Thailand. Employing over 15,000 people, Makro currently owns and manages 132 stores in Thailand and Cambodia. The company has engaged in import, export and distribution of quality products in Thailand, Cambodia, Hong Kong, Singapore, UAE and Vietnam through its subsidiaries and other relevant businesses.
About Charoen Pokphand Group
Founded in 1921 as a seed trading store for Thai farmers, the Charoen Pokphand Group has grown over the years into an integrated food production, distribution and retail business. Today considered one of Thailand's largest private company and one of the world's largest conglomerates, it is headquartered in Bangkok, with interests spanning across agribusiness and food, retail and distribution, telecommunications, plastics, automotive, pharmaceutical, property and financial investments.