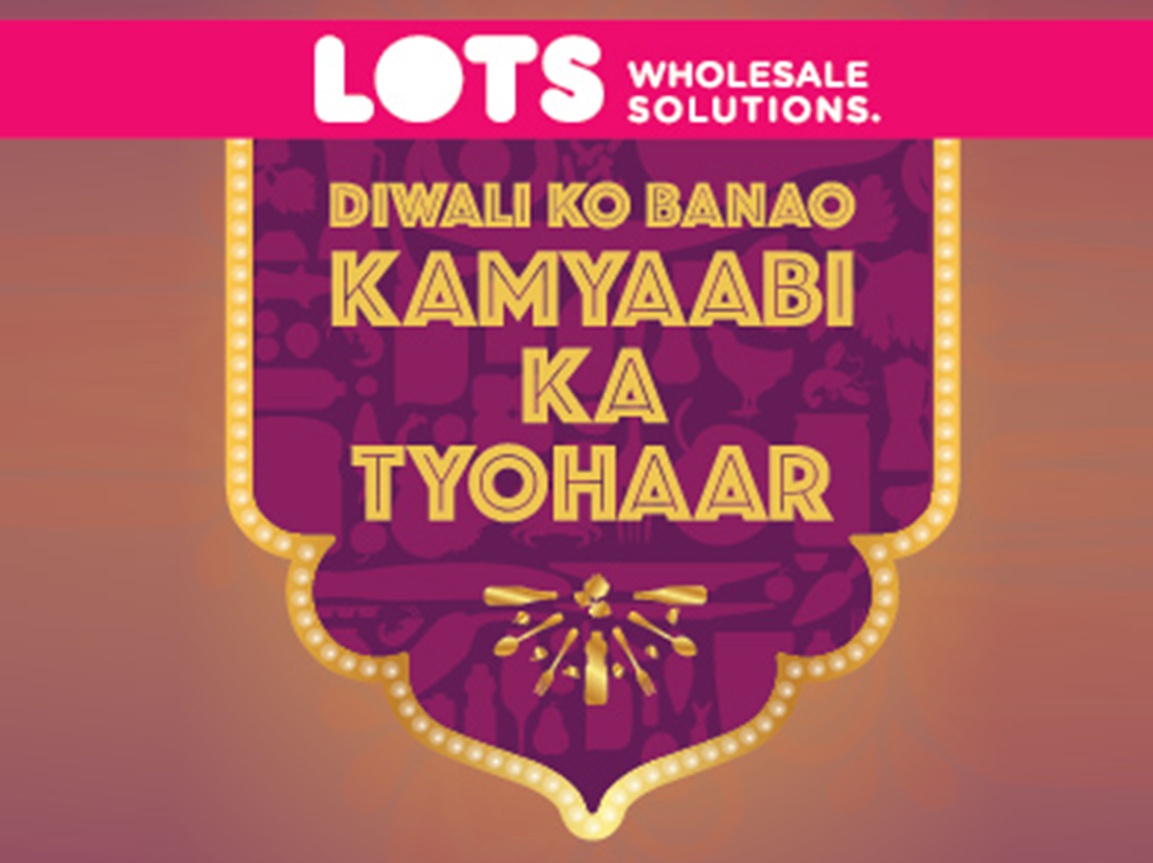 LOTS Wholesale Solutions announces its Festive Celebrations with 'LOTS KE SAATH MANAO KAMYAABI KA TAYOHAAR'
Celebrate the gifting season starting from 27th September to 26th October, 2019
More than 400 gifting options, starting from below Rs 100
Delhi, 25th September 2019: Ahead of the festival season, LOTS Wholesale Solutions, a part of the USD 50 billion Charoen Pokphand Group ("CP Group") and a wholly-owned subsidiary of Siam Makro Public Company Limited ("Siam Makro") from Thailand, announced 'LOTS KE SAATH MANAO KAMYAABI KA TAYOHAAR', an exciting festive promotional campaign featuring curated offers for its customers. Celebrating the season of festivities starting 27th September till 26th October 2019, the campaign is focused of increasing the profitability of its members, mainly kirana shop owners and HoReCa customers, by offering a vast selection of gifting products at a very competitive price.
To enhance the festive fervor, LOTS is providing over 400 gifting options from customized office hampers to beautifully package festive goodies, starting from below Rs 100. Customers can choose from a wide range of Indian sweets, chocolates, packaged food, electronics, stationery, home décor among others. Exclusive gift packs from the house of LOTS Wholesale Solutions – Plus Mo bakery is also available in various basket size.
Mr. Tanit Chearavanont, Managing Director, LOTS Wholesale Solutions, said, "With festive shopping at its peak, we at LOTS are focused on providing the best experience to our valuable members. This year's celebration will be as memorable as last year's for our customers as we bring amazing deals and offers across a vast selection of products and host of gifting options that would suit all our customers' business needs.
Amidst the shopping spirit being at an all-time high, we are expecting 25% uptake in sales with a footfall increase of more than 10%. LOTS is focused on adding a bit of sparkle, this festive season."
With this campaign, LOTS continues to provide irresistible offers which are guaranteed to light up the faces and is less stress on pockets. Featuring specially curated assortments for its members, delivery services, e-commerce, etc., LOTS Wholesale Solutions is a one-stop-shop for all its customer needs.
About LOTS Wholesale Solutions
LOTS Wholesale Solutions, a wholly-owned subsidiary of Siam Makro Public Company Limited (via CP Wholesale India Pvt. Ltd.), was established in January 2017 in India and operates through 3 stores in Delhi NCR. Siam Makro is Thailand's leading Cash & Carry operator in wholesale for professional business operators. The company's focus in India is on meeting the needs of business customers' and ensuring their satisfaction through the provision of a wide range of products to its members which include retailers, hotels, restaurants, caterers, service business operators, government agencies, hospitals and education institutions.
About Siam Makro
Siam Makro Public Company Limited, part of the CP Group, operates under the brand name 'Makro'. Established in 1988, Makro offers a range of food and non-food items at wholesale prices to over 3 million registered members in Thailand. Employing over 15,000 people, Makro currently owns and manages 132 stores in Thailand and Cambodia. The company has engaged in import, export and distribution of quality products in Thailand, Cambodia, Hong Kong, Singapore, UAE and Vietnam through its subsidiaries and other relevant businesses.
About Charoen Pokphand Group
Founded in 1921 as a seed trading store for Thai farmers, the Charoen Pokphand Group has grown over the years into an integrated food production, distribution and retail business. Today considered one of Thailand's largest private company and one of the world's largest conglomerates, it is headquartered in Bangkok, with interests spanning across agribusiness and food, retail and distribution, telecommunications, plastics, automotive, pharmaceutical, property and financial investments.