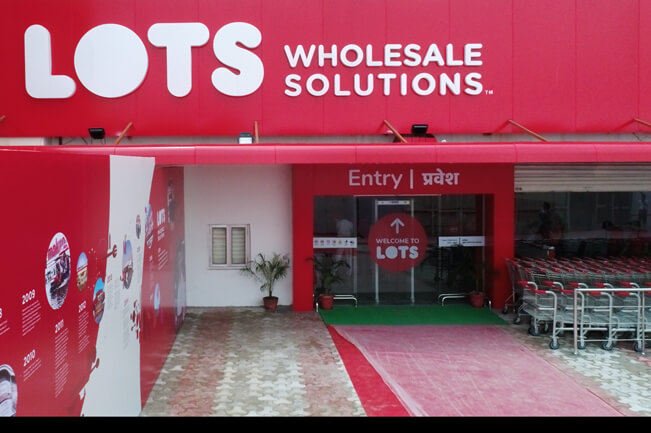 LOTS Wholesale Solutions announces investments worth INR 250 cr at UP Investors Summit 2018
Press Release-New Delhi, February 27, 2018
    –  LOTS Wholesale Solutions joins hands with farmers in Bhatinda, creates opportunities progressive farming.
     – Over 1,500 farmers were part of the 'Workshop on Opportunities in Food Processing Sector'
New Delhi, February 21, 2018: LOTS Wholesale Solutions, a 100% subsidiary of SiamMakro, today signed a memorandum of understanding (MoU) with the Uttar Pradesh Government. LOTS Wholesale Solutions will open wholesale outlets in next three years inUP with a proposed investment of INR 250 crore. The MoU was signed at the UP Investors Summit in Lucknow in the presence of Hon'ble Chief Minister Yogi Adityanath.
LOTS Wholesale Solutions expects to generate 1500-2000 direct and indirect employment within the state of UP through their stores. The company had recently announced their plans to launch 15 stores across North India in next three years with the first two stores to open in Delhi and Noida within 2018. The next phase will see extension into other major cities of Uttar Pradesh such as Lucknow, Agra, Varanasi, Kanpur, Meerut, and Allahabad.
Talking about the plans for the state, Tanit Chearavanont, Managing Director, LOTSWholesale Solutions said, "Uttar Pradesh is one of the most progressive states in the country and we are keen to be a part of the initiatives that create a win-win for both sates and businesses. This MoU paves the way for an extensive retail rollout by us which will provide multiple opportunities small & medium suppliers to grow their business as well as Kirana and HoReCa segment who will receive service par excellence. We aim to work closely with local farmers to improve their yield and enhance quality of product through our global expertise.'
Sameer Singh, Director, Lots Wholesale Solutions, underlined the company's commitment to the state by saying, "Our first store will be rolled out in Noida this year and soon we will open stores across Lucknow, Kanpur, Varanasi, Allahabad and other cities in UP. Our stores will create jobs for the talented youth of UP and also impart trainings that will enhance their skills. We are very positive about our entry into UP and are thankful to government for the support we have got in-terms ease of doing business."
LOTS Wholesale Solutions will establish special collection centers in key locations within the state of UP to source raw material from farmers directly and support local handicraft like khadi through manufacturing of uniforms etc. The company brings benefits of convenience aided by technology and digitisation, last mile delivery at competitive pricing for its customer base of HoReCa, traders and service customers.About LOTS Wholesale Solutions
LOTS Wholesale Solutions, a wholly-owned subsidiary of Siam Makro Public Company Limited, was established in January 2017 in India. Siam Makro is Thailand's leading Cash &Carry operator in wholesale for professional business operators. The company's focus in India is to meet the needs of business customers' ensuring satisfaction through provision of a wide range of products to its members that include retailers, hotels, restaurants, catering businesses, service business operators, government agencies, hospitals, and education institutions.
About Siam MakroSiam Makro Public Company Limited, part of the CP Group, operates under the brand of'Makro'. Established in 1988, Makro offers a range of food and non-food items at wholesale prices to over 3 million registered members in Thailand. Employing over 15,000 people,Makro currently owns and manages 110 Makro Cash & Carry stores, 8 Siam Frozen shops and 5 Food shops in Thailand, totalling 729,763 square metres of sales space. The company has engaged in import, export, and distribution of quality products in Thailand, Cambodia,Hong Kong, Singapore, UAE, and Vietnam through its subsidiaries including other relevant businesses.
About Charoen Pokphand GroupFounded in 1921 as a seed trading store for Thai farmers, the Charoen Pokphand Group has over the years grown into an integrated food production, distribution and retail business.Today considered one of Thailand's largest private company and one of the world's largestc onglomerates, it is headquartered in Bangkok and spans agribusiness and food, retail and distribution, telecommunications, plastics, automotive, pharmaceutical, property and financial investments.